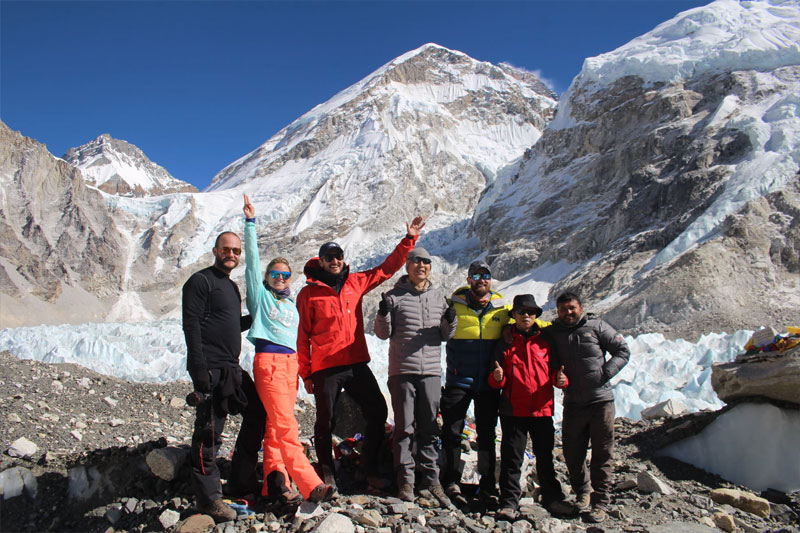 Nepal is Open for Travel
A Warm Namaste! We are happy to inform that Nepal is now open for travelling. Good news is, fully vaccinated travelers are now exempt from quarantine provision, which means they can start their travel right after their entry! Though, there are some travels restrictions, if you abide by the rules, travelling in Nepal will not be a hassle. With the Government's aggressive inoculation campaign, more than 19% of the total population is fully vaccinated and more than 21% has already received their first dose. As tourism professionals belong to the prioritized frontline groups, above 95% of the tourism workers have been fully vaccinated by now (97% in all the trekking g region).
At Clear Sky Treks also, almost all the office and field staffs are fully vaccinated. As there is some silver lining finally, we are now trying to go with V2V (vaccinated to vaccinated) services approach, which is the best thing to do as of now. We ensure our travelers that we will follow all the health and safety measures strictly during all our operations. This autumn, we are preparing more than ever to make our visitors feel welcomed and safe.
Please find the latest update on the travel protocols to be followed while entering Nepal.
There is no quarantine rule for fully vaccinated travelers, but they need to make sure that they have received their last dose at least 14 days before they enter Nepal.
On arrival visa service has resumed for fully vaccinated travelers. They need to present the following documents at immigration:
Vaccination Certificate with proof of 14 days after the last dose
RT-PCR negative test issued within 72 hours or less before first flight
Proof of hotel booking that we will make for you.
There is no on arrival visa provision for non-vaccinated travelers. They need to have prior visa from Nepalese Diplomatic missions in their respective countries.
Non-vaccinated travelers need to stay 10 days in quarantine at their own cost in the hotels designated by Nepal Government. https://www.tourismdepartment.gov.np/pages/notices/33/195
Upon arrival, non-vaccinated travelers need to present all the documents specified in no. 2 (except vaccination certificate), plus proof of quarantine hotel booking
All travelers should have rapid antigen test while entering Nepal. If found positive, they should be in quarantine at the hospitals or isolation centers designated by Nepal Government.
Looking forward to seeing you soon!
Best Regards,
Ram Chandra Basnet (Ram)
Clear Sky Treks & Expedition Pvt. Ltd.